RESIDENTIAL SERVICES
---
Interior
---
When you walk through your house do you feel there needs to be a change? Do you feel your house, condo, or townhome needs a makeover? We know you how you feel, and we want to help. With the free estimate our consultant visit you in your home and talks over with you what you want to change or fix. While he is walking through your house, condo, or town home he will discuss paint with you. If you don't want the head ache of picking out paint he can tell you about all the paint fads and trends that are happening right now. Although, he still likes to encourage our customers to pick what they like.
When you hire Accent Painting rest assured you are getting nothing but the best from start to finish. When we start your project we make sure to pay a lot of attention to detail. We repair all drywall, caulk all cracks in woodwork, and fill any nail or screw holes. Next, we protect your home and all belongings. Flooring is protected by builders paper or plastic, and taped down at the edges. Light fixtures and other personal belongings are covered in plastic and painters tape. Then we prime all patch work, and finally spray with high quality paint. We use rollers and paint brushes when it is needed. Our crew cares about your home, so they do their best to keep the area clean and trash minimal. When they have finished painting they remove all tools and trash. Our last step is to have an official walk through of the house or room so that we can take care of any touch up that is left over. At the end of it all we want you to be happy, and to feel like we weren't even there; besides the freshly new paint on your walls.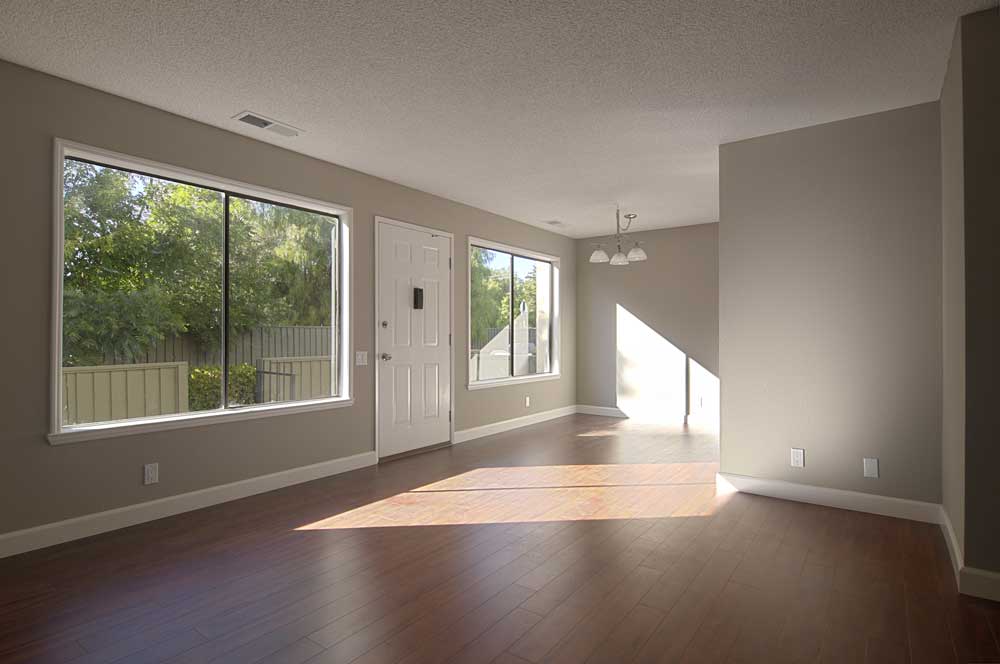 House, condominium, townhome, perimeter walls, we can paint it all.
We power wash before we can begin with painting stucco. This happens to remove any dirt or other impurities on the building. We usually wait a day to assure it has been dried properly. Our crew scrape any peeling stucco, caulk around windows and where it is needed, we pull all gravel away from the house, tie back any plants or bushes away from the house, and protect any unpainted areas by covering it with plastic and tape the ends. Then we spray with 100% acrylic exterior paint. Our crew will remove all trash and tools when they are finished.