Painting your house might seem to be an easy task, but in reality it is not. That is why many would prefer to find a paint contractor especially if you need to paint larger areas or spaces. To ensure that you get the worth of every penny you spend, you need to be careful in choosing a paint contractor. Take the time to weigh your choices, so you can select a contractor that offers reasonable rates and can provide you with quality work.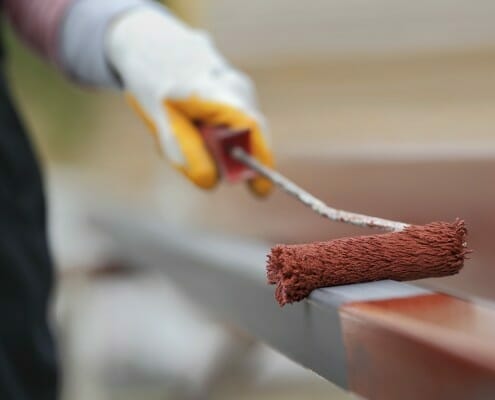 Getting Unknown & Uninsured Contractors
Since the painters you will contract for the project will work around your home, you cannot just hire anyone. After all, you need to be secured. One of the common mistakes that some people make is that they hire unknown contractors. There is nothing wrong with that generally if you are going to hire someone who is recommended or referred by any of your friends or colleagues. But if the contractors are totally unknown, it can be dangerous. In addition, it is essential to hire an insured contractor. In the event that an accident occurs, you never have to worry if you get a contractor that has insurance.
Lack Of Or No Communication
The last thing you would want to happen is to ask the paint contractor to do the work all over again because you failed to provide them with the specifications. Make sure that before they start to work, tell them everything you want. Proper planning is vital as it saves time and your chosen paint contractor can work based on what you need.
Using Low Quality Paint
There are all different kinds of paints available in the market today. And unfortunately, not all of these paint products are of high quality. Before you finalize the deal, know about the paint products that your contractor will use. It is important that only quality paint is used to ensure that it will last for a long time.
Hiring An Inexperienced Company
Everyone wants to reduce costs. The same thing applies when you hire a contractor. Then again, you cannot just hire any company especially if you are aware that the contractor is inexperienced. You would not want to hire people who cannot do their job the right way. Instead of ending up disappointed, hire people who are experienced, certified and can guarantee you with the best work. Before you hire a contractor, check the references of the contractor. If they have a website, you can look at the reviews and feedback of customers. You should avoid hiring a painting company with no track record.
Not Having A Written Agreement
The common mistake that most people do is that many fail to have a written agreement. This poses risk especially when something wrong happens. What if there is a problem or there are disputes? Without any contract or written agreement, it can be problematic. But if there is a written agreement, everything is written on paper black and white. This is essential to avoid any problem or confusion.
Paying The Whole Agreed Amount Prior To Job Completion
Have you ever experienced when you paid for the whole amount even before the project or work is completed then the contractor failed to finish the work? This can be really frustrating especially since you have already paid. To avoid this problem, you should never release the final payment to your contractor until the work is finally done.